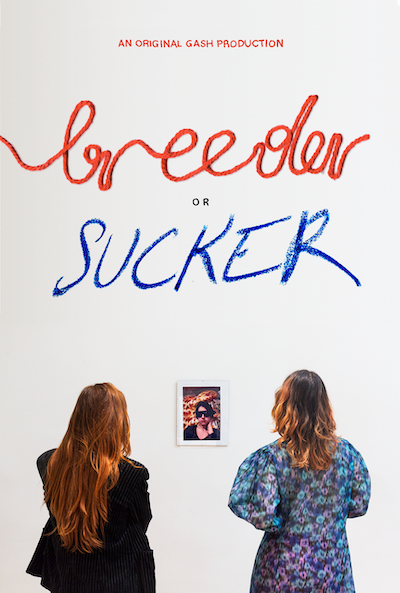 Charlotte Gash presents:
Breeder or Sucker;
The Tv Show
Breeder or Sucker; the TV show is a production about the lives and failures of art school students. The viewer follows a group of young people who are struggling; to secure an education; to be offered exhibitions and to get laid.
Breeder or Sucker delves into the mundane "everyday" aspects of being an artist. The series is made up of ten episodes, each 20-40 minutes long.
The scripts satirize situations of privilege and failure, whilst unapologetically commenting on female sexuality. The episodes also indulge in the time wasted procrastinating and partying.
Each episode is played out through the eyes of Charlotte Gash, a character based on the artist's semi-autobiographical experiences. Gash uses cardboard props in her work – highlighting absurd and humorous aspects of real life.
"He makes us laugh to make us learn. There's salvation in that."
– John Lahr discussing Joe Orton's play Loot
SHORT BIO
Charlotte Gash is a British artist living and working in Vienna. She is currently completing her MA from the Akademie der Bildender Kunst under Carola Dertnig in the performance class. Gash takes inspiration from humorous, everyday situations and her work takes the form of text, sculpture, performance and video.
WHERE:
Mz Baltazar's Lab, Jägerstraße 52-54, 1200 VIENNA
WHEN:
9th February – 13th February, 7.30 pm screening
REGISTER:
There will be about 15 places each screening so please register
to do this Email to register a space dearcharlottegash@gmail.com
2G+ rules mandatory