Mz*Baltazar's Lab versucht einen Raum zu schaffen, in dem angstfrei mit Technik experimentiert werden kann! Ein kreatives Umfeld für Aktivismus und provokatives Denken. Wir bemühen uns, den Raum so barrierefrei, inkludierend, offen, sicher und autonom zu machen, wie möglich, um sowohl als Menschen und als auch als Gemeinschaft zu wachsen.
Transparente, offene Technologie (Open Source Technologie) liegt uns sehr am Herzen, da wir durch diese Art von geteilter Resource ungehindert über Software und Hardware lernen und diese auch gemeinsam weiterentwickeln können.
Wir brauchen den gemeinsamen Rahmen, um mit den unterschiedlichsten Dingen zu spielen und dabei teils auch zu hinterfragen, beispielsweise Gender, Hardware und sogar unser Selbst (oder Konstruktion davon).
—
Mz*Baltazar's Lab aims at generating a culture of fearless making! An environment that fosters creativity, activism and provocative thinking! We try to build an accessible, inclusive, open, safer and radical space, from which to evolve as people and as community. Open Source Technology is at the root of our philosophy, it enables us to share and collaborate without restrictions. We need this space to experiment with things as gender, hardware or our selves.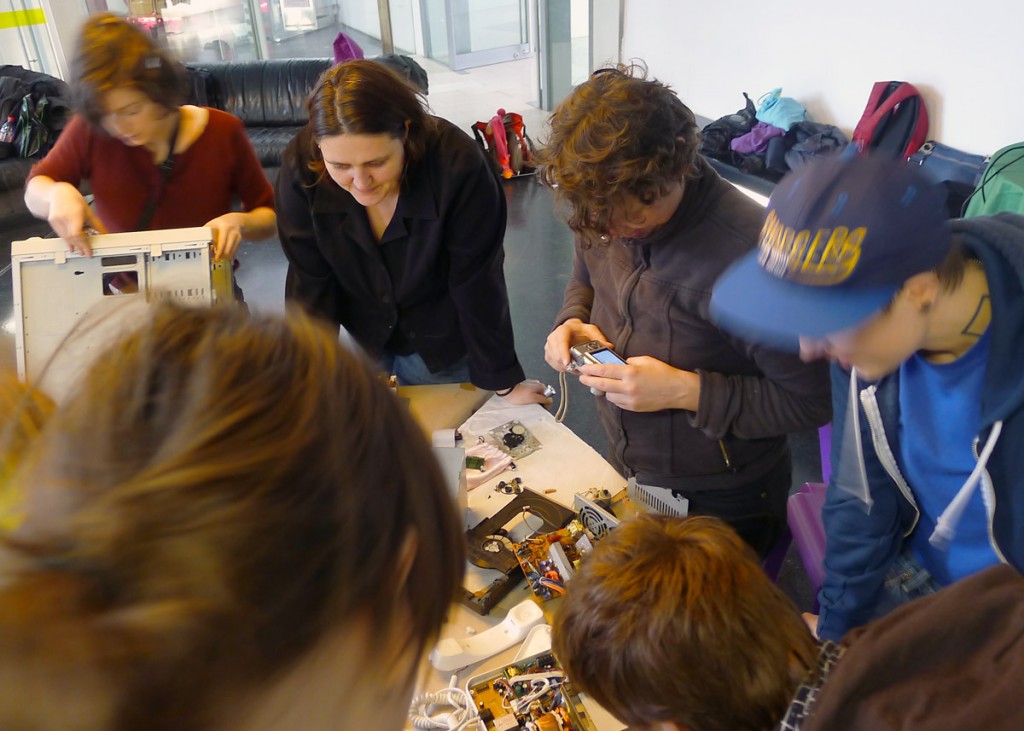 Wir sehen uns selbst als intersektionale Feministinnen und kommen deshalb auch aus recht unterschiedlichen Richtungen. Das Labor soll als 'Safer Space' (sichererer Ort) dienen, den Menschen gemeinsam nutzen können, die sich bisher in traditionellen Technik und Wissenschaftslaboren als nicht zugehörig oder gar ausgeschlossen erlebt haben. Viele Menschen fühlen sich in Räumen, in denen Technologien oder Naturwissenschaften vermittelt werden unsicher, daher laden wir besonders diese Menschen (Frauen*, trans, nicht-binäre Menschen) ein, bei uns mitzumachen. Oder selbst ihr Wissen in einem Workshop zu vermitteln, an der Schnittstelle von Technologie und Kunst und/oder mit einer neugierigen und kritischen Einstellung zu sozio-politischen Themen.
Unsere Ausstellungen und Veranstaltungen stehen allen offen und verfolgen die Absicht, Frauen* (im weitesten Sinne des politischen Begriffs) zu unterstützen sowie jene, die an feministischen Themen dran sind, wie Selbstermächtigung oder der Analyse und Beseitigung des Patriarchats.
Als Kollektiv haben wir eine recht dynamische Zusammenstellung. Manche von uns reisen viel, andere pflegen ihre Familien oder Freunde, alle verdienen ihr Einkommen in anderen Berufen, nicht durch den Verein. Deshalb sind wir recht anpassungsfähig und geben uns Mühe, auf die Lebenssituationen der anderen einzugehen und auf unterschiedliche Verpflichtungen Rücksicht zu nehmen. Die Menschen in unserem Kollektiv sprechen viele unterschiedliche Sprachen, haben oft vielfältige kulturelle Erfahrungen hinter sich, sind teils in Wien geboren, teils erst seit Kurzem in der Stadt.
Es ist ein sehr bereicherndes Erlebnis, in, mit und für ein Kollektiv zu arbeiten. Manchmal ist es eine große Herausforderung, aber im Endeffekt immer eine wunderschöne Sache, spannende Leute kennenzulernen und mit ihnen zusammenzuarbeiten, in welchem Ausmaß auch immer sie sich dafür Zeit nehmen können.
—
We identify as intersectional feminists, and we come from a variety of educational backgrounds. The lab is intended as a safer space for people who have traditionally been excluded from or have felt unsafe in spaces where science is taught, or technology is being used, and we invite those people (women, and trans* individuals) to participate or give workshops that bring together technology, art, and have a critical understanding of social structures. Our exhibitions and events are open to all audiences, and are intended to support women* in the broad sense of the political terms, and those who work on feminist issues, empowerment, and overturning patriarchy.
As a collective we are more or less fluid in our composition. Some of us travel a lot, others need to take care of families and friends, and almost all of us have some paying job. We therefore are flexible and try to support each other in whatever journeys we set out on. We come from a variety of linguistic and cultural backgrounds, and some of us have lived in Vienna longer than others. Working on, in, and with the collective is a fruitful experience, and a challenge, and we are always happy to meet people interested in working with the collective in whatever capacity they can.
Currently (August 2022) the collective is composed of:
Stefanie Wuschitz – Forscherin und Künstlerin / researcher and media artist
Lale Rodgarkia-Dara – Experimentelle Klangkünstlerin und Authorin / sound artist and author

Patrícia

J. Reis – Medien Künstlerin, Forscherin und Lehrende / media artist and lecturer
Anna Watzinger – Media Artist
Olivia Jaques – Artist/ researcher
Nicole Sabella – Medien Künstlerin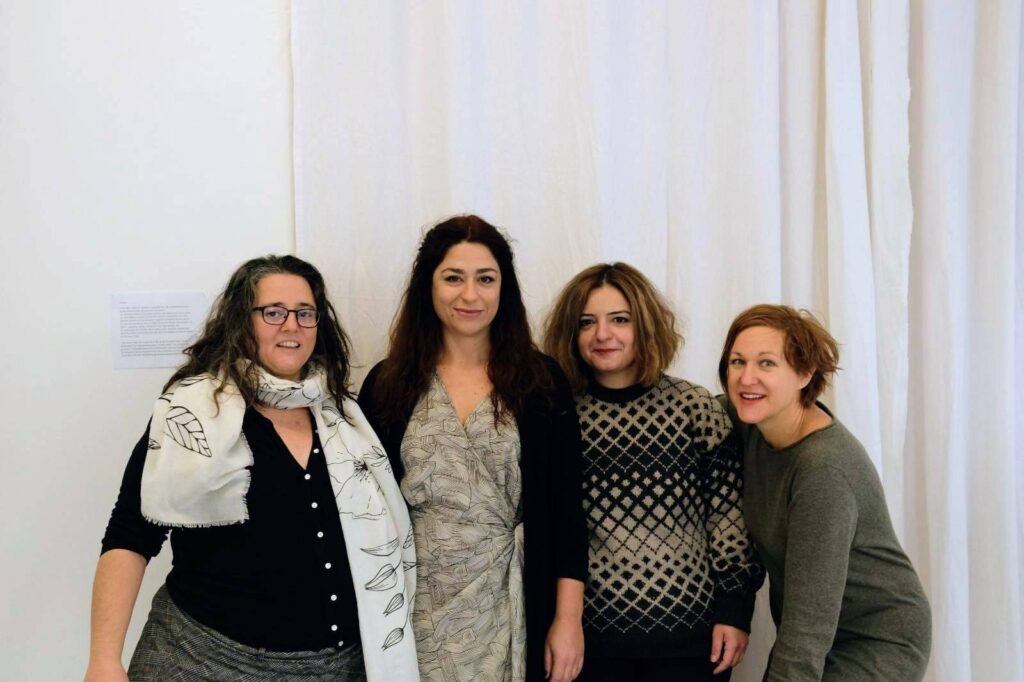 Wenn Du uns gerne kennenlernen möchtest und uns von Dir erzählen möchtest, freuen wir uns, von Dir zu hören! In der Zwischenzeit, schau Dir doch mal unser Video an:
If you would like to introduce yourself and get to know us, we'd be happy to hear from you! In the meantime check out this video on our work:
The MzB Collective