3. June, 19:00
–
9. June, 22:00
DAS FOTOSTUDIO by Lisa Großkopf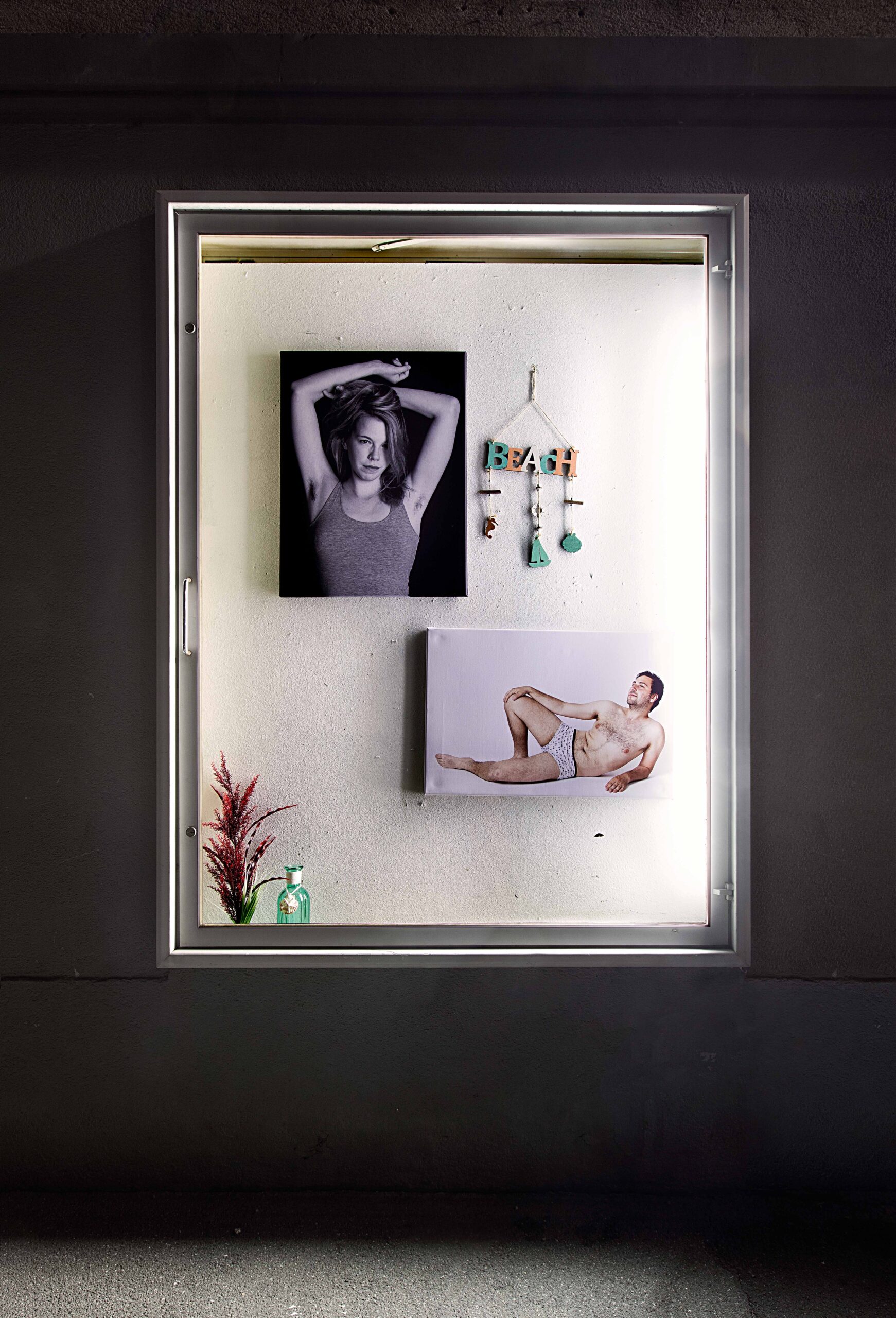 Vernissage: 03.06.23, 19h – 22h

Exhibition duration: 02.06. – 09.06.23

Artists Talk: 09.06.23,18h
Artists Talk with Lisa Großkopf and Bernadette Anzengruber; Moderation: Romana Hagyo in cooperation with "Gender and Space", Academy of Fine Arts Vienna

Finissage: 09.06.23, 19h – 22h

Further opening hours:
02.06. – 04.06.23, 14 – 18h in the context of the "Independent Space Index Festival"
07.06.23, 17 – 19h
and by appointment: mail@lisagrosskopf.net

WHERE

Mz* Baltazar's Lab

Jägerstraße 52-54

1200 Wien
ABOUT
In ihrer Werkserie Das Fotostudio beleuchtet Lisa Großkopf soziale Normengerüste unserer Gegenwart aus einer kritisch-feministischen Perspektive. Die Künstlerin inszeniert fiktive Fotostudios in den Schaufenstern ehemaliger Geschäftslokale und zeigt darin queere Bildwelten. Mal durch subtile Eingriffe, mal durch plakative Modifikationen erzeugt Großkopf irritierende Verschiebungen, die herkömmliche Vorstellungen von Geschlechterrollen unterlaufen. So gibt es in ihren Installationen beispielsweise gegenhegemoniale Lebensentwürfe, pluralistische Beziehungsformen und nicht-binäre Geschlechtsidentitäten zu entdecken. Vor dem Hintergrund, dass konventionelle Fotostudios oftmals ein konservatives Familienmodell vermitteln und tradierte Rollenbilder reproduzieren, stellt die Künstlerin die zunehmende Diversifizierung von Familienstrukturen und die Demontage geschlechtsspezifischer Zuschreibungen zur Diskussion. Die Schauinszenierung im Fotostudio als Mittel kritischer Wirklichkeitsdekonstruktion, verdeutlicht wie durch die Kraft der Fotografie, der traditionell abbildende Eigenschaften beigemessen werden und der demgemäß eine realitätsnahe Wiedergabe der Welt zugetraut wird, bestimmte Sehgewohnheiten und Stereotype über Jahrzehnte weitergetragen werden oder eben auch verändert werden könnten. Indem Großkopf den semi-öffentlichen Raum des Schaufensters bespielt, lädt sie eine breite Öffentlichkeit zum Dialog über den gegenwärtigen gesellschaftlichen Wandel ein.
ENGLISH VERSION
Lisa Großkopf's series "The Photographic Studio" explores social norms in our contemporary society from a critical feminist perspective. The artist stages fictional photo studios in the storefronts of former shops and showcases queer visual imagery. Through subtle interventions or striking modifications, Großkopf creates unsettling shifts that undermine traditional notions of gender roles. Her installations showcase counter-hegemonic lifestyles, pluralistic forms of relationships, and non-binary gender identities.
Given that conventional photo studios often convey a conservative family model and reproduce traditional gender roles, the artist's work discusses the increasing diversification of family The staging in the photo studio as a means of critical deconstruction of reality demonstrates how photography, traditionally attributed to its representational qualities, leads to the reproduction of certain habits of seeing and stereotypes over decades, or how it could potentially be changed. By using the semi-public space of the shop window, Großkopf invites a broad public to engage in a dialogue about current societal changes.