12. May 2017, 19:00
–
26. May 2017, 19:00
Fuckyeah!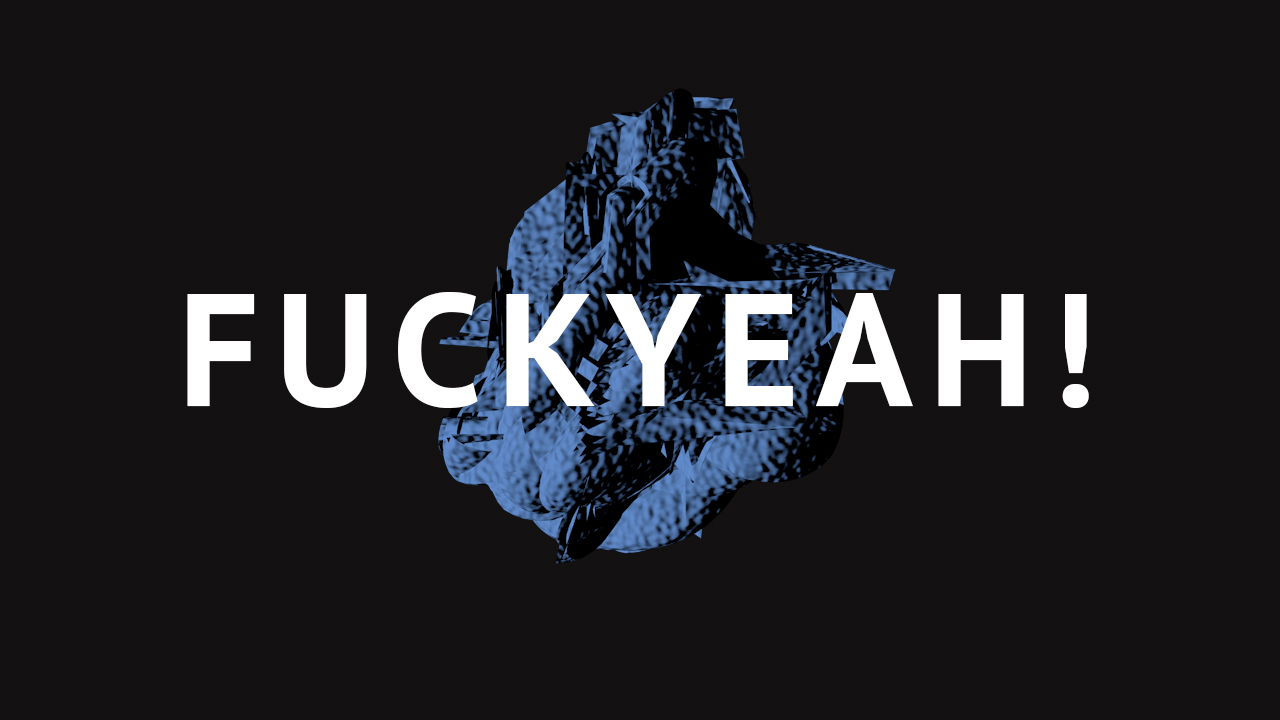 Photos from the exhibition
Photo credits: Ana Loureiro
DEUTSCH
Fuckyeah!
Das ist ein Moment.
Erweitert durch das Dasein.
Innen und Aussenwelten vereint in eine fiktive Raum-Persona.
Wer trägt die Verantwortung und wo sind deren Grenzen?
Der Mensch in seinem Auftreten ist vorhanden.
Die Betrachter sind aufgefordert Teil zu  nehmen an den Möglichkeiten, die in diesen Raum gelegt sind.
Eine einfache Berührung erweitert die Wahrnehmung.
Verantwortung. Niemals.
Verschiedenste Welten werden aufgebaut. Mystic steht mit Ratio im Wechselspiel. Bewusstsein dem Unbewussten gegenüber.
Was ist schon Verantwortung in unserem Sein.
So beschreibt Ela Sattler ihre Multi-Media-Installation "Fuckyeah!" basierend auf Projektionen, Objekten und Open-Source-Tools.
Man möchte um Nachsicht bitten.
________
ENGLISH
Fuckyeah!
This is a moment.
Expanded by existence.
Inside and outside worlds united in a fictional persona of space.
Who bears responsibility and where are their limits?
The human being is present by appearance.
The viewers are asked to take part in the possibilities, that are placed in this space.
A simple touch expands the perception.
Responsibility. No way.
Various worlds are built upon. Mystic is in the interplay with ratio. Consciousness towards the unconscious.
What does responsibility mean to our existence anyway.
This is how Ela Sattler describes her multi-media installation "Fuckyeah!" based on projections, objects, and open-source tools.
One wants to ask for indulgence.
______
Austellung vom 12.-26. Mai 2017
Exhibition from 12th-26th May 2017
Eröffnung 12.Mai 2017, 19 Uhr
Opening on the 12th May 2017, 7 p.m
About Ela Sattler
[DEUTSCH]

Die mulimediale Künstlerin Ela Aloisia Sattler setzt sich in ihren raumübergreifenden Installationen mit dem Umfeld und dessen Einflüssen auseinander. Sie lädt die Betrachtenden dazu ein in eine Weltmodelle im Kontext von Dystupie und Utopie zu hinterfragen.
Ihre Arbeiten schöpfen aus den digitalen Mitteln der Opensource Zeit mit Raspberrypi bis Processing.


[ENGLISH]

Ela Aloisia Sattler is a Multi-Media-Artist based in Vienna. In her interdisciplinary installations she deals with the environment and its influences in her.
She invites viewers to question a world model in the context of dystopia and utopia.
Her art-works are based Opensource Hard- and Software-Tools from Raspberrypi to Processing.