2-Kanal Videoinstallation
von Lisa Truttmann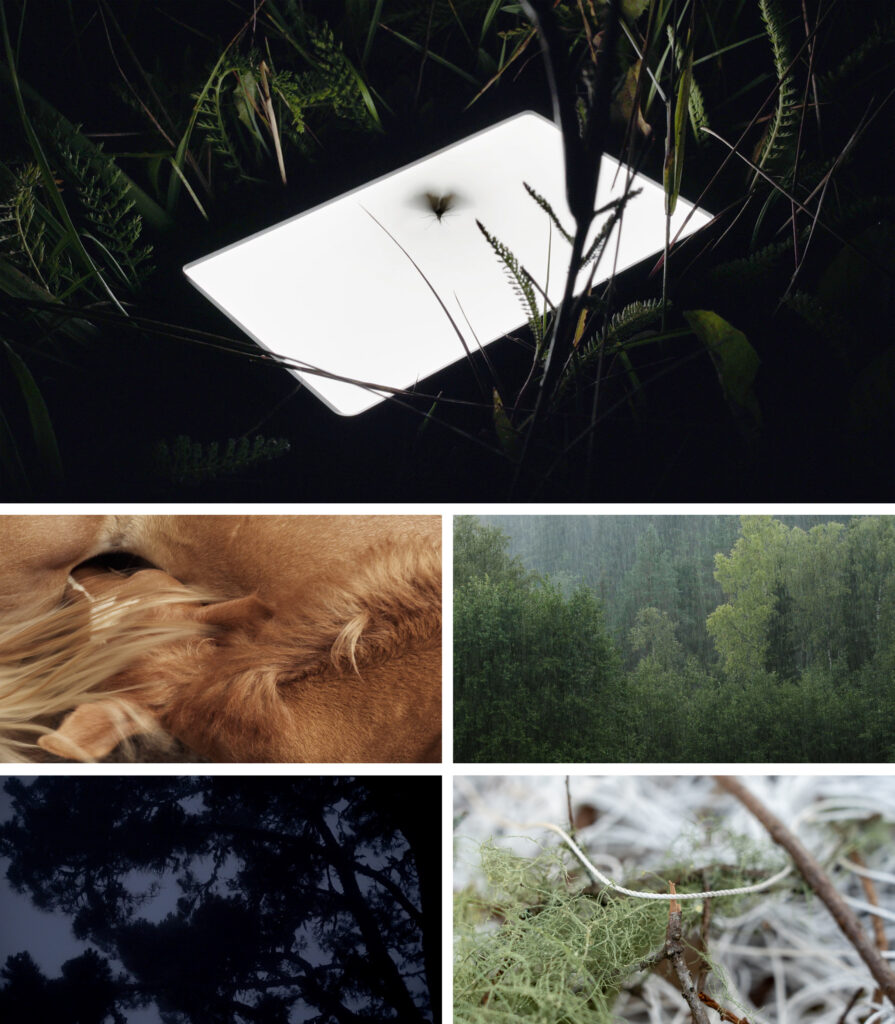 Finissage: 16.12.2022, 19:00 Uhr

Ausstellungsdauer: 3. – 16.12.2022
Öffnungszeiten: 3.,4.,9.,10.12.2022, 16:30 – 20:30 Uhr
Weitere Termine nach Absprache: mail@lisatruttmann.at
Surren und Blitzen am Nachthimmel. Wildes Blätterwerk auf unscharf vorbeiziehendem, feuchtem Waldboden. Nervöse Begegnung am Mammutbaum, gluckerndes Geschwätz mit Truthähnen in der Dämmerung. Lässig frisierte Pferdemähnen, unberechenbare Flugkörper und dröhnend flatternde Rotoren. Gescheckertes Fell wühlt durch Farngestrüpp. Schwirrender Nebel, tropfender Dunst, Baumbart, Unwetter, Licht – gebrochen. Erfundene Dachse, Faden und Spiele.
Critters Chorus, Cycle 1 ist der erste Teil eines laufenden Projekts, das Lisa Truttmann beim Erkunden naturhafter Lebensräume entwickelt. Fragestellungen zum sogenannten "Species Problem" folgend, widmet sie sich den (Un-)Möglichkeiten einer taxonomischen Kategorisierung lebender Organismen aus künstlerischer Perspektive. So entsteht ein fiktionales Ökosystem aus rhythmischer Montage und widerspenstiger Komposition, in der die Arten gegen ihre Einordnung anstimmen.
Die Audio- und Videoaufnahmen sammelte die Künstlerin während Residency Aufenthalten im Süden Estlands (Maajaam Project Space, 2019) und in den Santa Cruz Mountains in Kalifornien (Djerassi Resident Artists Program, 2022). Gefördert durch das Land NOE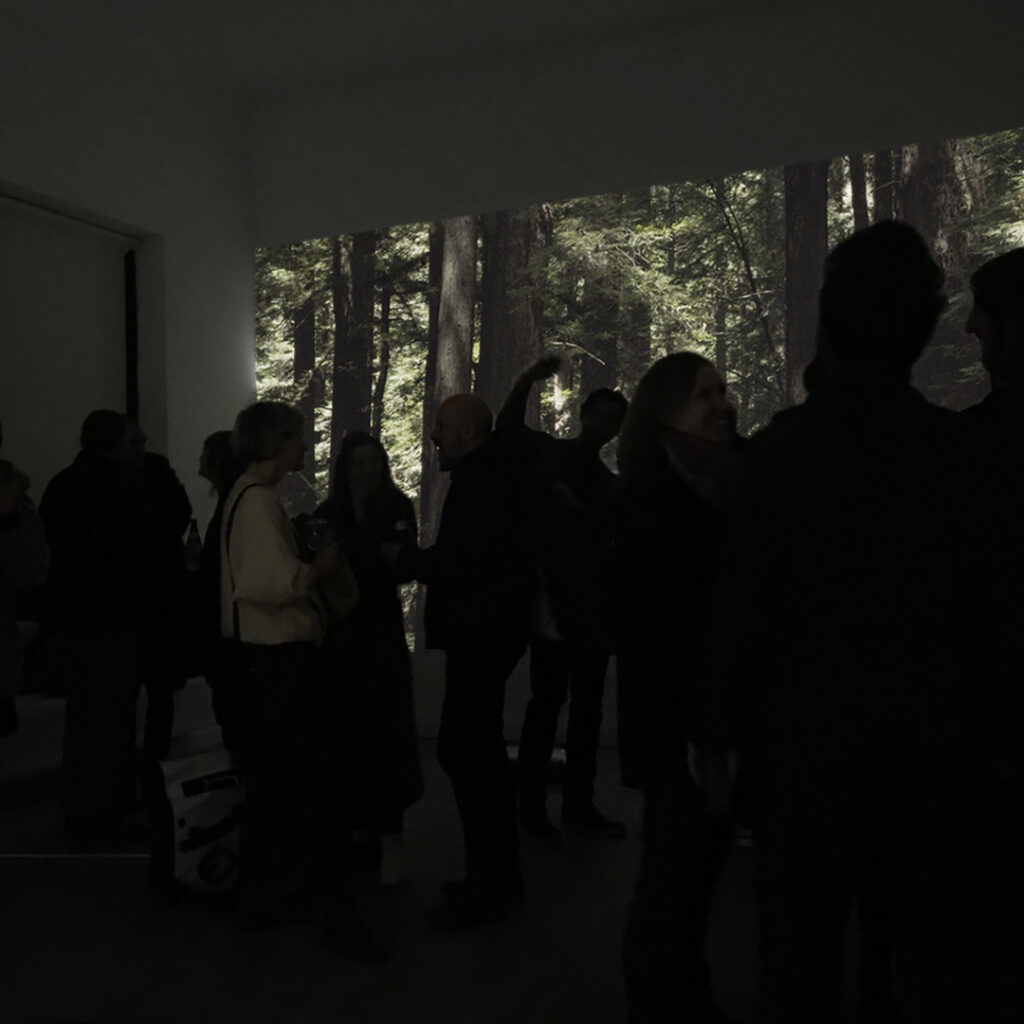 Kurzbiografie:
Lisa Truttmann (*1983) lebt als Künstlerin und Filmemacherin in Wien. In ihren Arbeiten spürt sie den Strukturen von sozialen, architektonischen und ökologischen Landschaften nach und verknüpft dabei dokumentarische Elemente mit spielerisch inszenierten Versatzstücken. Aktuell beschäftigt sie sich mit der Beziehung zwischen Menschen und Dingen in persönlichen und kollektiven Narrativen. Ihre Bewegtbilder und Installation werden seit 2005 international in Ausstellungen und auf Filmfestivals präsentiert.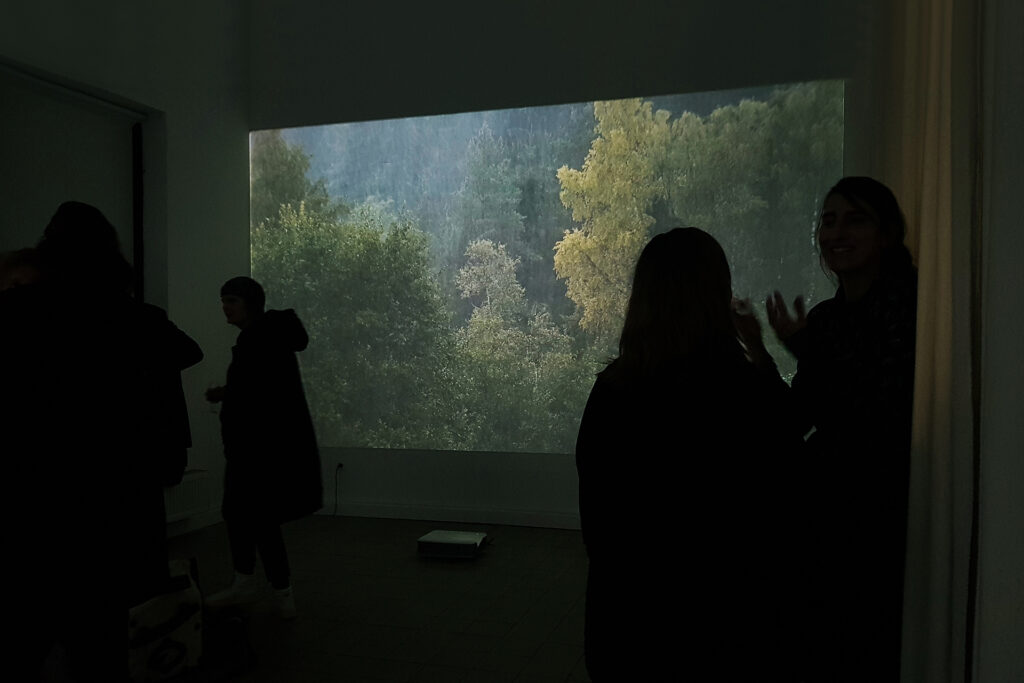 English:

Critters Chorus, Cycle 1
2-channel video installation
Opening: Dec. 2, 2022, 7:00 p.m.
Duration of the exhibition: Dec. 3 – 16, 2022
Opening hours: Dec. 3,4,9,10, 2022, 4:30 – 8:30 p.m.
Further dates upon request:
Finissage: Dec. 16, 2022, 7:00 p.m.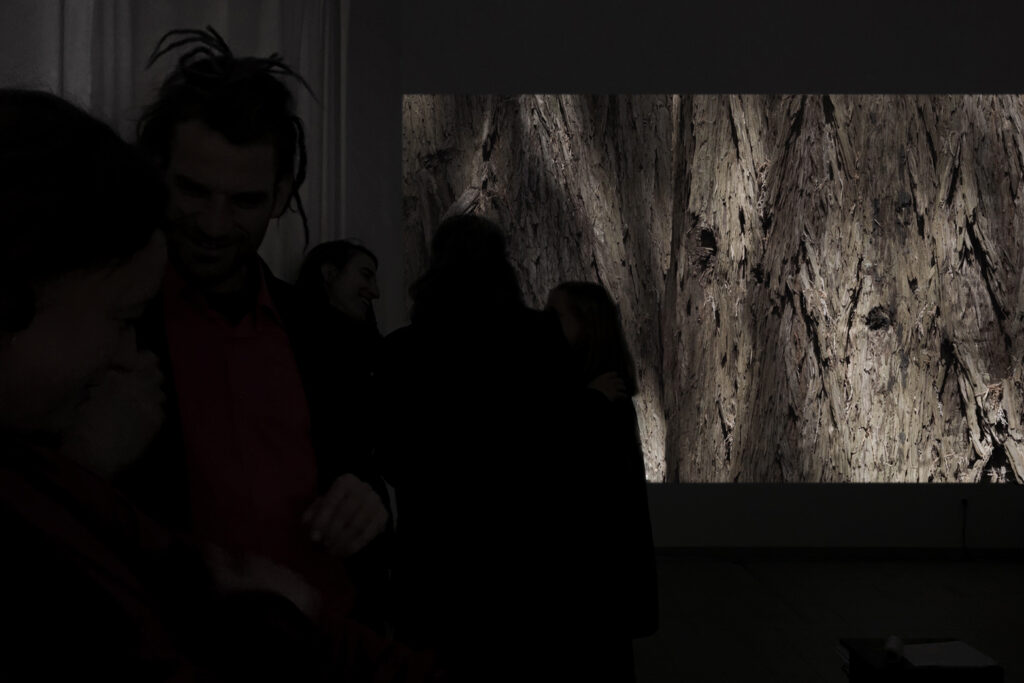 Whirring and flashing in the night sky. Wild foliage on a moist forest floor, rapidly passing by. Nervous encounters at a redwood tree, gurgling chatter with turkeys at dusk. Casually coiffed horses, unpredictable flying objects and flapping rotors. Speckled skin scrabbles, covered in lush ferns. Swirling fog, dripping haze, old men's beard, light – diffracted. Sassy badgers, strings and figures.
Critters Chorus, Cycle 1 is the first part of an ongoing project by Lisa Truttmann, developed while delving into unfamiliar habitats. Lead by questioning the so-called "Species Problem", she investigates the (im)possibilities of taxonomic categorization of living organisms from an artistic point of view. This way she creates a fictional ecosystem of rhythmic montage and unruly composition, in which the species raise their voices against imposed classification.
Audio and video recordings have been collected during artist residencies in southern Estonia (Maajaam Project Space, 2019) and in the Santa Cruz Mountains in California (Djerassi Resident Artists Program, 2022).
Supported by Land NOE
Short biography:
Lisa Truttmann (*1983) is an artist and filmmaker based in Vienna, Austria. In her practice she ties documentary elements into staged settings and rhythmic compositions, tracing the structures of social, architectural and ecological landscapes. More recently she is concerned with the relationship between things and people, embedding them in personal and collective narratives. Her moving images and installations have been exhibited and screened internationally since 2005.