5. May 2020, 17:00
–
20:00
Workshop: Artivism, Feminism, Queerness by Anna T.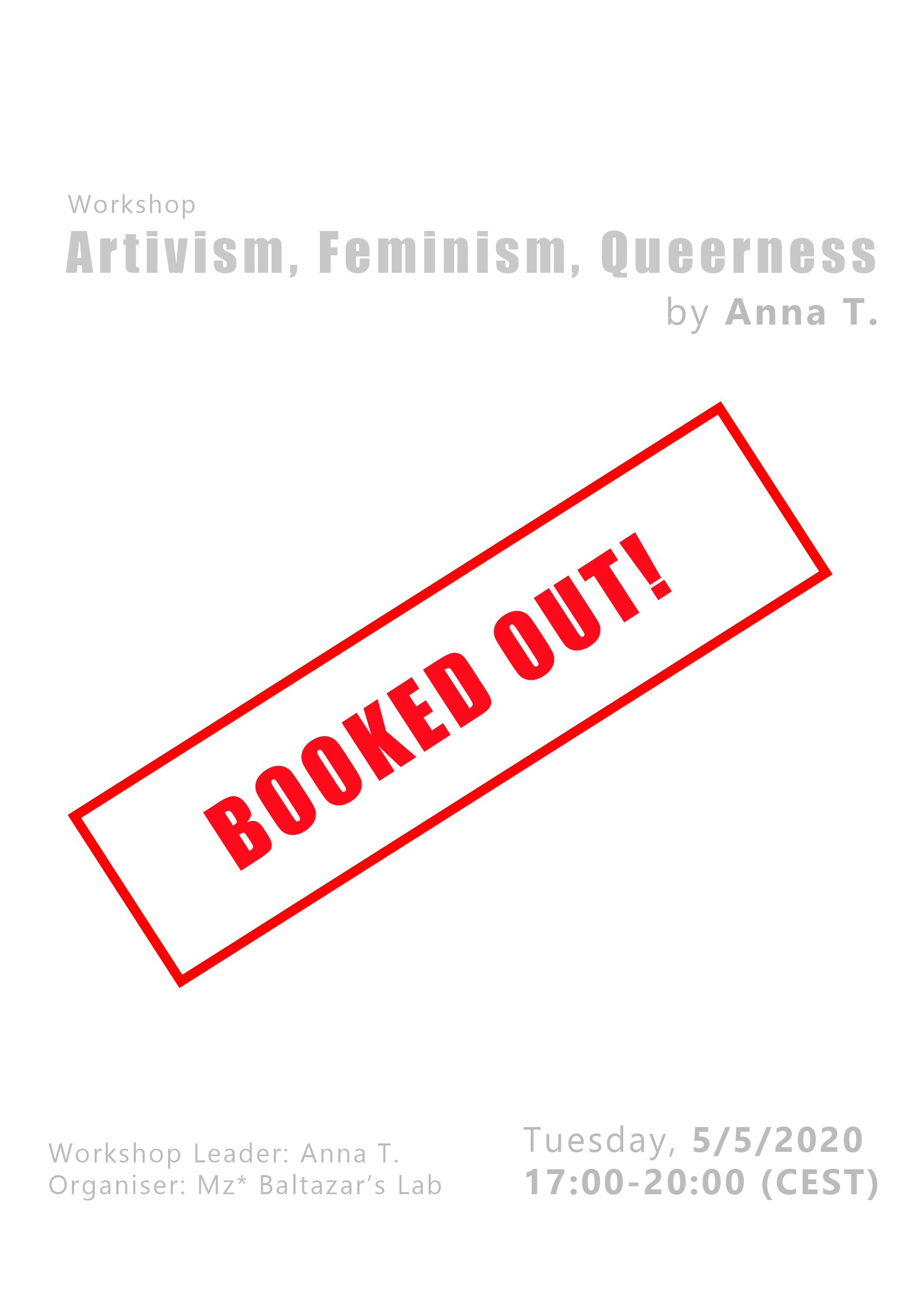 We would like to thank the big interest in the upcoming workshop.
The limit amount of participants have been reached which means that the registrations are closed!
For the ones who will participate, see us soon!
However, new events/workshops will happen soon
stay tuned!
Workshop: Artivism, Feminism, Queerness
Workshop Leader: Anna T.
Organiser: Mz* Baltazar's Lab
Tuesday 5/5/2020
17:00-20:00 (CEST)
The workshop is open to all genders, doesn't require previous knowledge on the topics, will be held in English and is offered for free.
Please register via Email at barb@mzbaltazarslaboratory.org to reserve your spot.
This workshop offers an opportunity to explore how women, femininities, and queer people have expressed themselves through art addressing feminisms and resisting the heteropatriarchy through creativity and art.
With examples from Mexico, the USA, the Caribbean, S. Africa, Czechoslovakia, Lebanon, and the Arabian Peninsula participants will have the opportunity to see different aesthetics of activism and resistance through art. Music videos, street art, performance art, TED talks all come together to empower us and our communities, offer us ideas on how to resist and positively represent ourselves as minoritarian subjects.
Due to the current situation, the workshop will be given online. A link for the workshop's conference call will be sent to you via email upon registration. There will be a possibility for you to test the platform before the workshop, so you can surely participate.
What you will need:
An internet-connected device , a functioning camera and mic.

Pen and paper.

A registration email to barb@mzbaltazarslaboratory.org to reserve your spot.
About the workshop leader:

Anna Tzini is an educator, visual artist, and academic based in Vienna. She has taught at the Institute of Art Theory and Cultural Studies & the Institute for Education in the Arts of the Academy of Fine Arts Vienna and at the Media Culture and Art Theories Department of the University of Art and Design Linz. She studied Photography, Video and New Media and holds an MA in Queer studies in Arts & Culture from Birmingham City University, UK, 2010, and a PhD from the Academy of Fine Arts Vienna (PhD in Practice, 2017).