12. November 2019, 19:00
–
29. November 2019, 19:00
Christine Schörkhuber – Gefüge – Structures / exhibition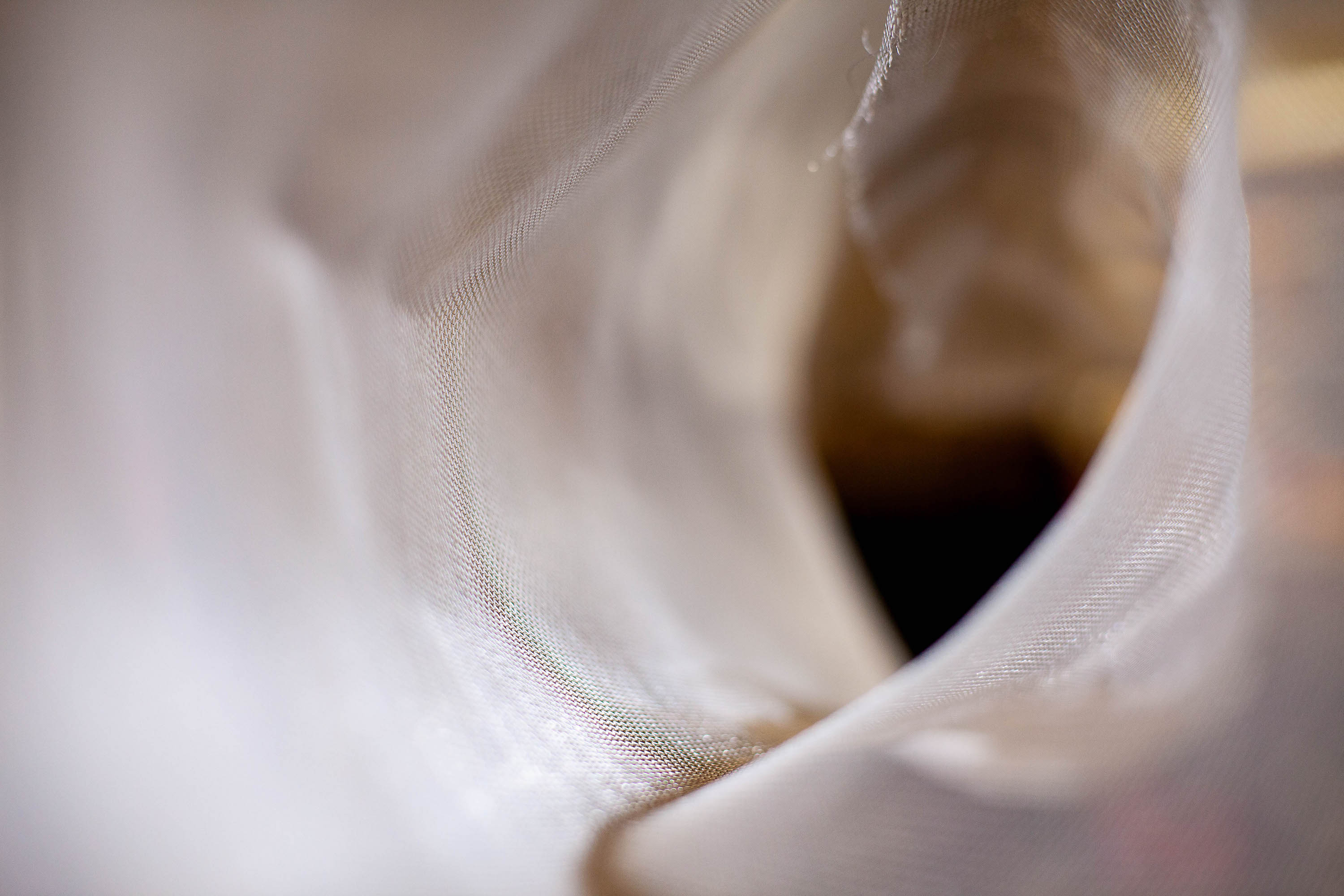 photo: Verena Mayrhofer
OPENING: 12.11.2019 – 19H
FINISSAGE: 29.11.2019 – 19H
WHERE: Mz*Baltazar's Laboratory
Wallensteinstraße 38-40/8, 1200, Vienna, Austria
Exhibition from 12.11 – 29.11.2019
openinig hours by appointment:
appointment@speis.net
Christine Schörkhuber
Gefüge
Kinetisches Objekt, Klanginstallation.
Im Kontrast zur schweren Materialiät des Metalles formiert sich das Objekt mit einer schwebenden Leichtigkeit in einer zufällig wirkenden Kumulation von feinen, leitenden Fäden zu einem Gewebe.
Es fungiert dadurch als grossflächiger Kapazitätssensor und reagiert auf die Veränderung im elektrischen Feld, die durch die Gegenwart und Disposition von Menschen entstehen. Es ist ein amorphe Struktur, in der sich eine momentane soziale Konstellation manifestiert, das aber auch einer eigenen, pulsierenden Bewegung folgt, die in seiner autarken Logik begründet ist, Auch Umweltfaktoren wie Wetter, Materialität der Architektur und allgemeine Aktivität rundum kommen zum Tragen.
Das Gefüge wird damit zur Metapher des Ungreifbaren und Unausgesprochenem, das in einem sozialen Raum zwischen Menschen in der Dynamik von ephemeren Begegnungen entsteht.
Die Dynamik des elektromagnetischen Feldes wird durch Spulen aufgenommen und akustisch verstärkt, diese Sounds formen gemeinsam mit den reibend-mechanischen Geräuschen der Bewegung im metallischen Gewebe eine installative Klangkomposition.
Strom ist nicht nur ein Werkzeug oder Mittel zum Zweck, es ist Material und physikalisches Medium, das als zentraler Mitspieler im künstlerischen Objekt fungiert. Donna Haraway nennt dies einen "anorganischer Verhandlungspartner in Prozessen und Gefügen".
Das Phänomen bleibt unangreifbar und unbegreifbar, dennoch erfahrbar.
/
Christine Schörkhuber
Gefüge – Structures
Kinetic object, sound installation.
Contrary to the heavy materiality of the metal, the object forms a randomly acting accumulation of fine, conductive threads to a fabric with a floating lightness.
This fabric acts as a large-capacity sensor and responds to the changes in the electric field caused by the presence and disposition of humans.
It is an fibrous, amorphous structure that embodies a current social constellation, but also follows its own pulsating movement, grounded in its autarkic logic. Environmental factors such as weather, architectural materiality, and general activity all have an influence.
The structure thus becomes a metaphor for the intangible and unspoken that arises in a social space between people in the dynamics of ephemeral encounters.
The dynamics of the electromagnetic field are taken up by coils and are acoustically amplified. Theese sounds, together with the frictional-mechanical noises of movement in the metallic structure, form an installative sound composition.
Electricity is not only a tool or a means to an end; it is materiality and physical medium that acts as a central player in the artistic object. Donna Haraway calls this an "inorganic negotiating partner in processes and structures".
The phenomenon remains unassailable and incomprehensible, yet tangible.