12. April 2019, 19:00
–
26. April 2019, 19:00
Kategorie: Terenu by Tina Tonagel – Exhibition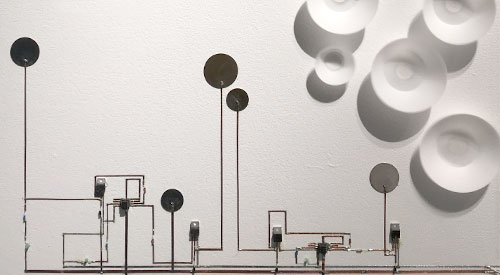 Die Medienkünstlerin Tina Tonagel aus Köln arbeitet mit kinetischen, analogen Projektionen und kreiert poetische Apparaturen und mechanische Klangkunstwerke.
Für die Ausstellung bei Mz*Baltazar's Lab entwickelt sie eine raumbezogene, temporäre Installation aus verschiedenen miteinander korrespondierenden elektronischen Schaltkreisen, die auf subtile Weise Klänge, Licht und Bewegung erzeugen und zu einer raumfüllenden Komposition vereinen.
Kleine Solarmotoren, LEDs und Miniaturlautsprecher werden von Microcontrollern angesteuert, wobei die Leiterbahnen und Kabel durch Aluminium- oder Kupferfolie ersetzt werden, die -direkt auf der Wand angebracht- in Kombination mit Transistoren, Widerständen und Kondensatoren den Schaltkreis in eine fragile kinetische Wandzeichnung umwandeln.
/
Opening 12th April, 7 p.m.
at Mz*Baltazar's Lab
Wallensteinstraße 38-40/8, 1200, Vienna, Austria
opening hours by appointment to:
stefanie.wuschitz@gmail.com
Tina Tonagel (*1973) ist Medien- und Klangkünstlerin. Als Experimentalmusikerin nähert sie sich dem Ausstellungsraum auch in einem kompositorischen Sinn, sodass dieser und seine baulichen Besonderheiten in subtile Partituren aus Klang, Kinetik und Objektkunst überführt werden. Die Ästhetik der Schaltkreise oder die Geräusche mechanischer Apparate und selbst erschaffene Instrumente bespielen weiße Wände und erzeugen einen individuellen Klangraum.

Tina Tonagel (*1973) works with sound, various projection techniques and electromechanical devices, which she uses for interventions in space. Through her work she sharpens the image and perception of the spectator for spatial peculiarities and seemingly everyday things. The poetry of precise elaborated aesthetic and understandable mechanic makes her work a fascinating experience.
Tina Tonagel has received numerous scholarships and prizes and her work was shown in various exhibition and festivals.


Website: http://www.tinatonagel.de