30. August 2019, 19:00
–
13. September 2019, 18:00
A Look, A Signal And Zero by Anna Lerchbaumer – Exhibition Opening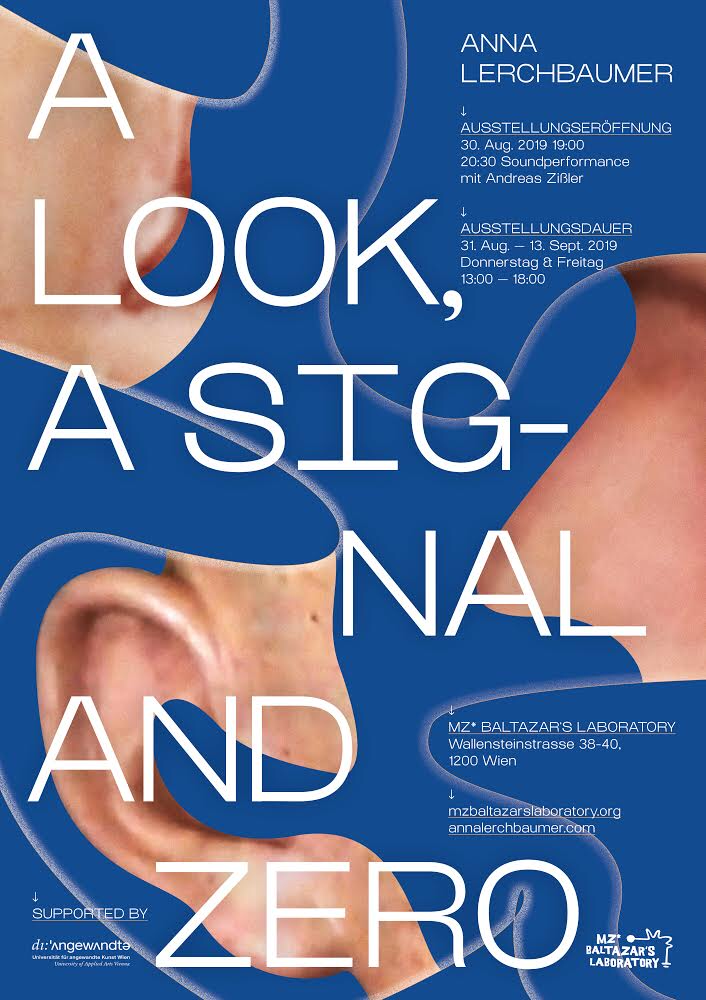 Poster Design by Erika Glionna
Opening: 30th August, 7 p.m.
Soundperformance with Andreas Zißler: 8.30 p.m
30 August-13 September, 2019
Open on: Thursdays and Fridays from 13:00 – 18:00
Finissage: 6pm
Mz* Baltazar's Laboratory
Wallensteinstrasse 38-40
1200 Wien
Österreich
/
Mz* Baltazar's Laboratory is pleased to present Anna Lerchbaumer's solo exhibition A Look, A Signal And Zero organized in collaboration with the University of Applied Arts Vienna (Angewandte) as a culmination of a joint residency program.
Anna Lerchbaumer's playful curiosity and fascination with the entangled notions of rhythm, narrative and translation further the multiple impulses and ideas running through her work, like the electric current that sets it into motion.
Mediating on the poetry and magic of electricity, Anna Lerchbaumer notices a continuity in the history of its female personification with the contemporary extension embodied in the phenomena of gendered AI assistants and humanoid robots, such as Siri, Alexa or Sophia. How does the female-sounding voice relate to forms of control? The sound frequently remains unnoticed, or blurs into the background, becoming a part of the sonic environment, while the female-sounding
voice and the female-looking robotic body incorporate the message of reliance and comfort in the omnipresence of contemporary forms of control.
Can we come up with stories that are different from the main narrative? Is it possible to tell and translate this story of power, control and inequality in the technosphere as an audio-visual and material narrative of intimacy between the artificial voice/face, the electrical current and the sound, inspirational in its self purposefulness? In her installation, Anna Lerchbaumer distributes these points of departure along the magic/magnetic motion and materials of her work, where her goal is to create a symbiosis of sound and narration of electricity as a myth.
The exhibition will be on view from 30 August until 13 September 2019.
Thursday and Friday from 13:00 – 18:00
The exhibition is a result of Anna Lerchbaumer's 1-month artist residency organized by Mz* Baltazar's Laboratory in collaboration with the University of Applied Arts Vienna (Angewandte).
The joint residency of Mz* Baltazar's Laboratory and Angewandte is designed to create a supportive environment for the development and production of an artwork by an emerging student artist, assisted by the team of Mz* Baltazar's Lab aimed at displaying the artwork professionally through a solo show.
Anna Lerchbaumer
b.1989 Innsbruck, Austria lives and works in Vienna
www.annalerchbaumer.com

Anna Lerchbaumer is a video and sound artist, who makes works that feature our technologies, build surroundings, a near-cinematic investigation of hypermodernity, its memories and emotions. Anna creates sonic performances and installations, where sculptural aspects play an important role. She spans a field between music, performance and fine art. Objects become instruments, things become performers, and field recordings become spatial installations. Her sonic explorations are dedicated to the electromagnetic fields where musical instruments are self-built antennas, cables and site-specific surroundings. In a narrative style she echoes the relationship between humanity and our technologies, where she composes her research into a rhythmic assemblage.

Anna Lerchbaumer actively collaborates with a number of visual artists, philosophers and musicians and is part of ANULLA. Recent performances and exhibitions include Galaxy Museum in Chongqing in China, Gallery Weltraum in Munich, Zentrale and the Krinzinger Projekte in Vienna.